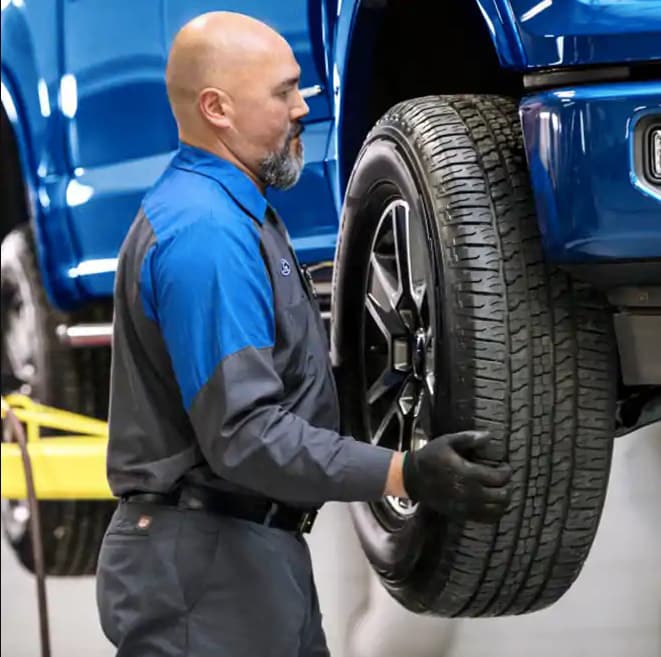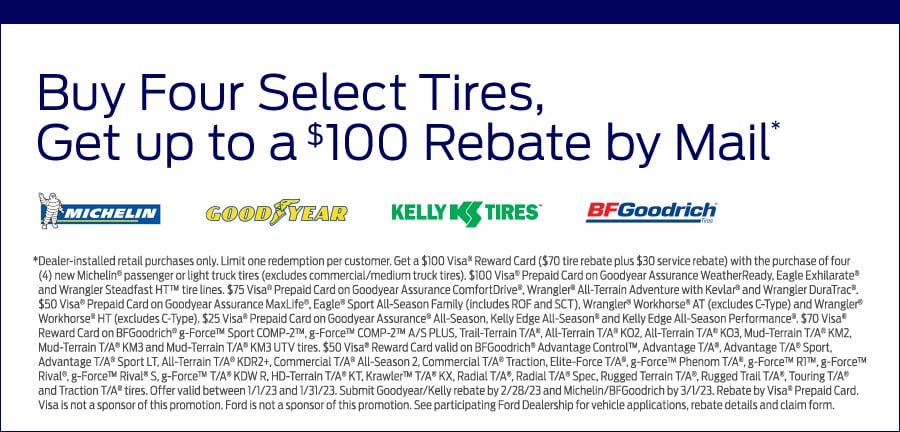 *Dealer-installed retail purchases only. Limit one redemption per customer. Get a $100 Visa® Reward Card ($70 tire rebate plus $30 service rebate) with the purchase of four (4) new Michelin® passenger or light truck tires (excludes commercial/medium truck tires). $100 Visa® Prepaid Card on Goodyear Assurance WeatherReady, Eagle Exhilarate® and Wrangler Steadfast HT™ tire lines. $75 Visa® Prepaid Card on Goodyear Assurance ComfortDrive®, Wrangler® All-Terrain Adventure w/ Kevlar® and Wrangler DuraTrac®. $50 Visa® Prepaid Card on Goodyear Assurance MaxLife®, Eagle® Sport All-Season Family (includes ROF and SCT), Wrangler® Workhorse® AT (excludes C-Type) and Wrangler® Workhorse® HT (excludes C-Type). $25 Visa® Prepaid Card on Goodyear Assurance® All-Season, Kelly Edge All-Season® and Kelly Edge All-Season Performance®. $70 Visa® Reward Card on BFGoodrich® g-Force™ Sport COMP-2™, g-Force™ COMP-2™ A/S PLUS, Trail-Terrain T/A®, All-Terrain T/A® KO2, All-Terrain T/A® KO3, Mud-Terrain T/A® KM2, Mud-Terrain T/A® KM3 and Mud-Terrain T/A® KM3 UTV tires. $50 Visa® Reward Card valid on BFGoodrich® Advantage Control™, Advantage T/A®, Advantage T/A® Sport, Advantage T/A® Sport LT, All-Terrain T/A® KDR2+, Commercial T/A® All-Season 2, Commercial T/A® Traction, Elite-Force T/A®, g-Force™ Phenom T/A®, g-Force™ R1™, g-Force™ Rival®, g-Force™ Rival® S, g-Force™ T/A® KDW R, HD-Terrain T/A® KT, Krawler™ T/A® KX, Radial T/A®, Radial T/A® Spec, Rugged Terrain T/A®, Rugged Trail T/A®, Touring T/A® and Traction T/A® tires. Offer valid 1/1/23 to 1/31/23. Submit Goodyear/Kelly rebate by 2/28/23 and Michelin/BFGoodrich rebate by 3/1/23. Rebate by Visa Prepaid Card or Visa Reward Card. Visa is not a sponsor of this promotion. Ford is not a sponsor of this promotion. See Service Advisor for vehicle applications, rebate details and claim form. Expires 1/31/23.Expires: 01/31/23
Make an Inquiry
* Indicates a required field
Hours
Monday

9am-8pm

Tuesday

9am-8pm

Wednesday

9am-8pm

Thursday

9am-8pm

Friday

9am-8pm

Saturday

9am-5pm

Sunday

Closed
Low Price Tire Guarantee
Why buy tires anywhere else, when your Ford Dealer offers all of this:
16 major brands,
30-day price guarantee,
All makes and models.
*Valid on dealer-installed retail purchases only. Requires presentation of competitor's current price ad/offer on exact tire sold by dealership within 30 days after purchase. For online quotes, guarantee applies only to new tires sold on retailer websites. Excludes tires sold by third parties on marketplace sites and any resellers. See participating U.S. dealership for details through 12/31/23.